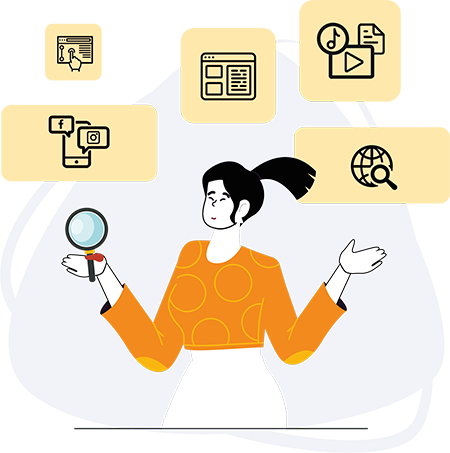 We are a full-stack Digital Marketing agency capable of showcasing your story for the whole world to gaze upon. By combining the art of storytelling with data, we ensure you can achieve your targets by engaging with us and become the leaders in your space. We are a collective of talent that can come up with magic to awe you and your customers over and over.
Join with us at Cocoberry Marketing and experience the ultimate growth hack in Digital Marketing for your success.
Developing your brand & persona
Create your unique voice and identity to connect and communicate with your audiences. Be it a fun website design, engaging content or goosebump-worthy design elements, we have the complete shebang ready for you!
Be visible Be found
Your success depends on how visible you are on search engines. Get your website audit to understand your visibility and then grow it further with us as we deploy all the Google SEO techniques for you.
Express your passion convincingly
Be it blogs, videos, podcasts, or websites, brochures and more, we are here to help you with it all. Portray your stories in the most impactful way that connects and resonates with your audiences for a powerful result.
Connect better, Engage super
The new way of connecting with your audiences is this. Show them what you are doing and interact with them via a strong social presence. Keep your viewers engaged and connected with you at all times.
Reel them in, click by click
A little investment can get you a front row seat. Your audiences will reach you first and that's how you roll in the crowd. Let us help you achieve bang for your buck with Google certified pay-per-click advertising practises.